Despite many tubers being too small to survive the transplant shock, the majority of large plants have survived into their second and third years. Ten of the surviving plants (50%) have flowered in 2020, and many seedlings were observed for the first time after their initial flowering season in 2019. Additionally, some plants were naturally pollinated confirming the presence of the pollinator and the suitability of the site. Other flowers were artificially pollinated by the experienced ecologists at Acacia to help secure the new population and improve its genetic diversity.
This project has required a strong dedication by the team at Acacia to monitor each plant on a weekly basis and record data during the orchid's growing season. It has involved an intimate knowledge of the habitat requirements and conditions suitable to the recovery of Victoria's threatened flora taxa and the ability to provide specialist advice to help preserve the species. It has also required the flexibility of the team to respond rapidly to changes in site conditions such as weather conditions, by providing supplemental watering, and to new threats, such as insect damage that have the ability to wipe out new generations almost overnight.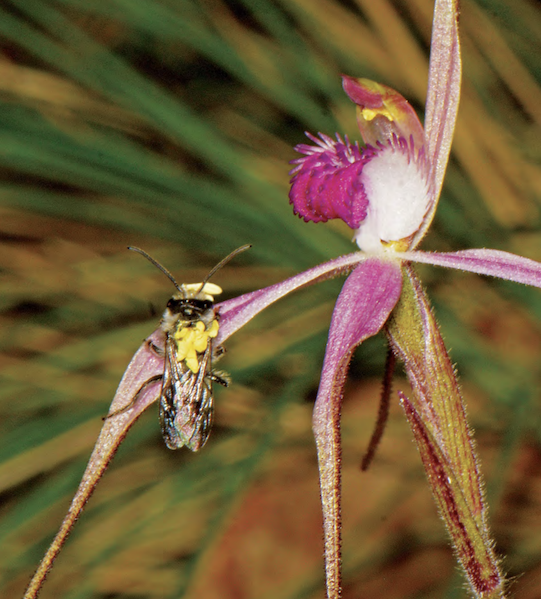 Image: A male short-tongue bee Leioproctus obscurus with pollina from Saladenia rosella. Credit: The Orchadian, Rudie H Kuiter.